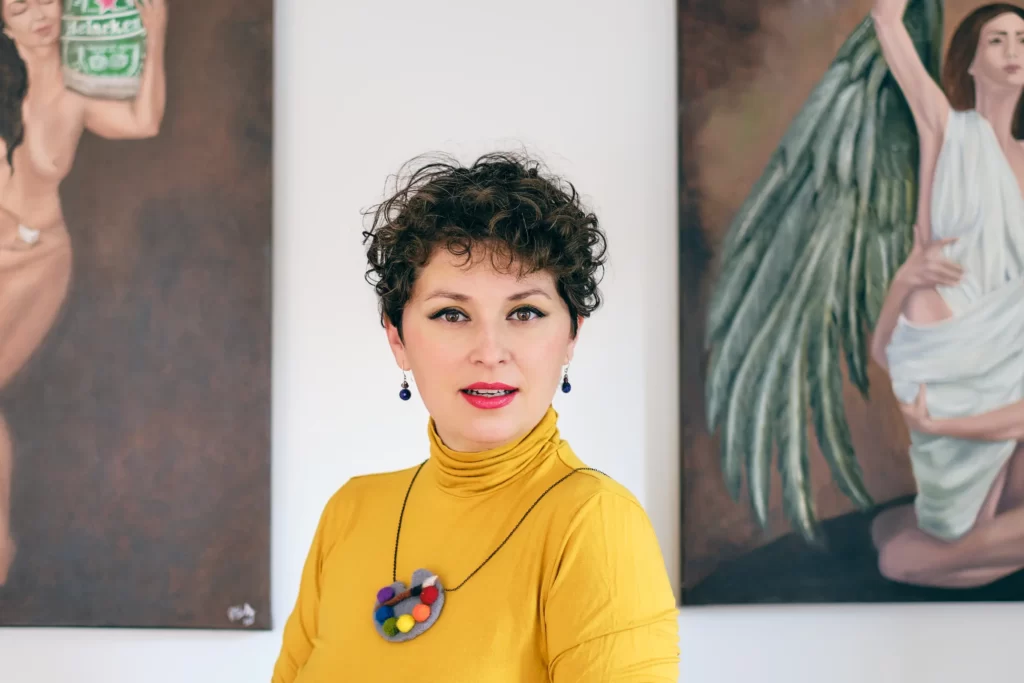 2016 – Bistro de Lárte – Brasov, RO
2016 – Museums White Night – Brasov, RO
2017 – Rope street museum – Brasov, RO
2018 – New Artist Art Fair – London, UK
2019 – Big Tower Art Gallery – SIbiu, RO
2019 – Reduta Cultural Center – Brasov, RO
2019 – Blue Biennale – Brasov, RO
2020 – Rope Street Museum – Brasov, RO
2021 – Träffa konstnärer – Sätila, SW
2021 – Konstgaraget, Art Gallery – Kinna, SW
2022 – Kinna Borg Salen – Kinna, SW
2022 – Room to Bloom festival – Malmo, SW
2023 – Gallery Rotor 2 – Gothenborg, SW
2023 – Gallery Monitor – Gothenborg, SW
Cori Rina, a passionate explorer of modern society's intricacies and contradictions, especially concerning gender roles, stands as a true catalyst for change. Her journey through the world of art and creativity is a testament to her unwavering commitment to challenging established norms and pushing the boundaries of conventional thinking.
As a multidisciplinary artist Cori Rina creates intricate and thought-provoking pieces that serve as catalysts for profound conversations about pressing societal issues. With a keen eye for innovation and a steadfast dedication to weaving contemporary themes into her work, she consistently provides fresh and unexpected perspectives on complex, contemporary subjects.
Born in Romania and now calling Sweden home, Cori Rina's artistic exploration spans an array of expressive forms, encompassing music, painting, and writing. Writing, in particular, has always been her therapeutic outlet for articulating her innermost thoughts and emotions—a solace she has relied on since her childhood.
Although she harbored a lifelong passion for sketching, Cori Rina didn't embark on her journey into the world of painting until later in life. It took profound life experiences for her to grant herself the permission to fully embrace her creative potential. Her diverse studies in law, psychology, and art infuse her creations with a rich tapestry of contradictory ideas, emotions, and states of mind, serving as a testament to her authenticity and unwavering commitment to staying true to herself.
Singing, another cherished outlet for stress relief and vitality, had been a dream since her earliest memories. Yet, much like her initial hesitation towards painting, Cori Rina initially shied away from pursuing a professional singing career. It was only after a long and introspective journey that she realized the power of creativity was within her grasp and that the decision to step out of her comfort zone rested solely in her hands.
Today, Cori Rina has expanded her horizons into the world of moving images, creating captivating videos that bring her ideas to life. These videos have provided her with another outlet to construct new realities and share her unique perspective with a broader audience. With international exhibitions under her belt, Cori Rina's artistic journey is a testament to the profound transformation that can occur when one wholeheartedly embraces their innate creativity and unapologetically follows their passion.